Omega Watches
Delivering Unmatched Precision in Swiss Luxury Watches
Discover Omega Watches, the Swiss Brand that made it to space, is loved by a spy, & times the world's most important races. Learn more about luxury Omega Watches for sale online and browse our collection exquisite and functional timepieces incl. Omega Seamaster, Omega Constellation, Omega De Ville, Omega Speedmaster.
Omega Watches – The Swiss Watch with a Strong History
When you want a watch that is remarkably accurate, robust, and made for sport, space, the deep, and 007, you need an Omega watch.
Omega watches are excellence and innovation packaged in horological beauty. Since its humble beginning in 1848, Omega has grown to become one of the leading luxury watches favored by both men and women alike. Omega watches exude power. They are accurate. They are made to withstand the pressures of everyday wear and an active lifestyle in true Swiss quality.
In 1848, Omega Watches opened its doors as a small pocket watch shop in La Chaux-de-Fonds, Switzerland. In little over 50 years, Omega grew to become one of the largest watch manufacturers in Switzerland.
Omega has had a long, successful history as one of the premier watch companies in the world. It has been the Official Timekeeper of the Olympic Games since 1932. In keeping with its ethos as a precision watchmaker, Omega has achieved more records for accuracy than any other watch company.
Other historic feats of this Swiss giant include being the inventor of the James Bond watch. The Omega watch was also the first watch on the moon, they invented the first diver's watch, and had the only certified marine chronometer watch.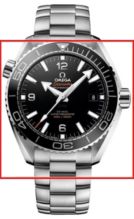 Omega
Seamaster
215.30.44.21.01.001
Omega Watches
At the pinnacle of luxury Swiss watches stands Omega. Amongst the world's top 5 luxury watches, it is a brand that sets and consistently breaks records. Not only do these watches look good, but they offer unmatched reliability and functionality. And that's all put together in an aesthetically pleasing package.
From the depths of the ocean to the beauty of space, Omega watches have graced the wrists of some of Earth's leaders, adventurers, and explorers. Omega has been one of the most trusted brands for decades. With a reputation for excellent precision, reliability, and functionality, their watches have been sought-after the world over.
Omega watches for women and men's Omega watches deliver a fine horological quality wristwatch. Omega watches for men and women offers an elegant and appealing aesthetics. They also provide the precision and accuracy the brand is known for.
Buying an Omega Watch Online
Searching for Omega watches for sale will bring you to some of the tried and tested models that can withstand the pressures of time, space, and sea. Over the years, Omega has excelled at watchmaking and bringing innovative designs to the marketplace. You won't be disappointed when buying an Omega watch online.
From traditional watches to modern designs, there are quite a few series from which a watch enthusiast can choose. Luxury Omega watches online are available at a variety of price points and depends on the Omega collection and series you choose. There is a wide selection of vintage watches and more modern collections. From the Omega Constellation to Omega Seamaster collection and limited special editions, there is a Swiss watch with your name on it from Omega.
As one of the more coveted timepieces, certain Omega watches will hold their value well over time. Iconic models such as the Omega Speedmaster and other carefully chosen second-hand omega watches offer desirable value if you know which ones to look at. Omega watch prices can range from 3 figures to 6 figures depending on the model and series. Vintage Omega watches, for example, can command premium watch prices. If you're not worried about value, then get an Omega watch that you will love to look at, want their functionality, and will enjoy wearing for years to come.
Omega Watches are Innovation and Precision
Omega is one of the best-known luxury watch brands on and off the planet. The brand offers a genuine luxury experience for watch enthusiasts everywhere.
They have invented movements such as the Omega caliber. This movement revolutionized timekeeping for its accuracy and the ease for which it could be repaired. Their watches have also won top competitions for accuracy and precision. This includes the 1931 Geneva Observatory trials, the Olympics of watchmakers, where Omega won First Prize in all six categories on offer.
Some of its more popular collections include:
From space to sea, the Omega brand of luxury watches also has set records for innovation and precision. In 1965 the Omega Speedmaster reference ST105.003 was certified by NASA as "Flight Qualified for all Manned Space Missions". The first Speedmaster Professional then made it on the moon in 1969. For underwater excursions and deep-sea diving, the Omega Seamaster line of watches is a favorite.
Discover the world of luxury Omega men's watches and Omega watches for women at Rattrapante.